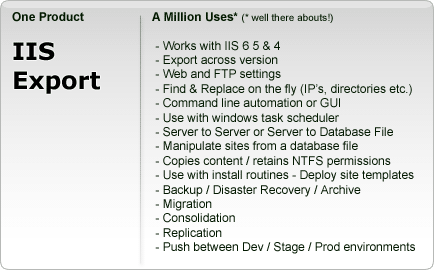 We regret that as of 26th January 2011, we will no longer be taking orders for IIS Export. Existing customers with queries can contact Adsonline LLP by email at info@adsonline.co.uk.
This application is wonderful - congratulations to all the clever people who wrote it. Thank you for all your help.
Stephen Walker, Liverpool John Moores University.
"Until recently, no one had designed a utility specifically to achieve duplication of an IIS setup from one server to another, with no clusters or enterprise required. So I was delighted when I ran across a company offering a utility that does exactly that, complete with virtual directories and other settings. To make the utility even sweeter, it's freeware. The utility even has a feature that lets you save the settings to a database and restore them later to another system. Check it out"
Brett Hill - IIS Informant Column - Windows 2000 Magazine


Copyright 2023 Adsonline